Large Format Wood Wall Cladding Laser Engraving
Large Format Wood Wall Cladding Laser Engraving
This Starbucks Siren Engraving is nearly 60″x120″! At LCI we specialize in large format wood wall cladding laser engraving. Our maximum laser bed size is 50″ x 100″ for engraving some of the largest projects but by tiling the cladding, we can go as big as you need!  Wether we supply the wood or if you have your own panels or wall cladding, we have the solution for your project.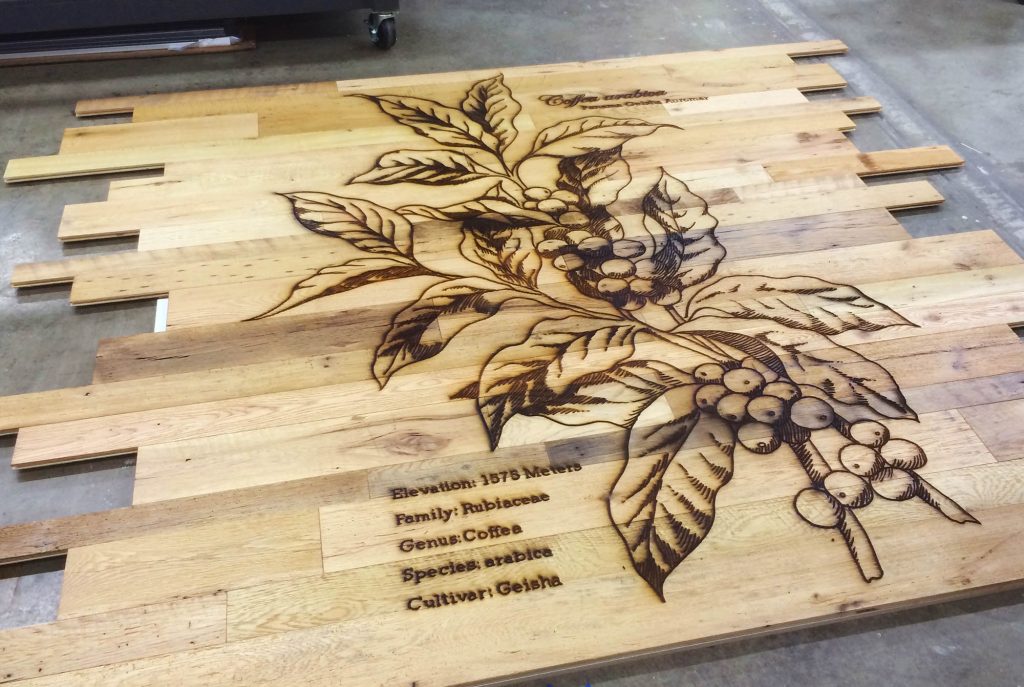 Frequently Asked Questions:
1. Do I need to supply LCI with a file for a large format wood wall cladding laser engraving?
A: A simple tif or jpg file would work. The file should be in B+W mode without any grayscale, and the resolution should be at 300 dpi or more (at actual size).
2. What format files do you work with?
A: Adobe Illustrator, Corel Draw, Adobe Photoshop, AutoCAD, SolidWorks and most other common formats.
3. What information do I need to get a quote?
A: Size of part yo need cut, Type of Material, Thickness of Material and Color. If you don't know any of this info, we can guide you.
4. Does LCI send a proof before producing work?
A: We always e-mail a proof for your review before running any parts or products.
5. Can LCI produce a sample part before running large orders?
A: Yes! We can make a production sample before large production.
6: Will the ink scratch off of direct print laser cut acrylic products?
A: No. Our proprietary printing and cutting process leaves ink in tact even after laser cutting through it. Our ink adheres strong and is tough to scratch off.
7: Is a UV Flatbed Acrylic Print durable?
A: Yes. Our inks will not scratch off acrylics.
8: Is a Laser Engraved Acrylic LED Sign more expensive than a printed sign?
A: Yes. A Laser Engraved Acrylic LED Sign takes more machine time to produce and they do cost a bit more than printed sign panels.
Need a Quote on a Project?
Either give us a call or e-mail us at the address listed below. We understand that our customers need quick turn around times and our team responds quickly to quote requests to help you with a solution. From pencil sketch to cad file, we can work with just about any file format to make your request into a finished success. All trademarks shown are the property of their respective owners.
Laser Cutting, Inc.
1549 South 38th Street
Milwaukee, WI 53215-1717
Toll Free: 1-800-471-2600
Tel: 1-414-383-2000
Fax: 1-414-383-7447
e-mail: info@lasercuttinginc.us
web url: www.lasercuttinginc.us
Laser Cutting, Inc. serves Chicago with 1 day UPS ground shipping!
Here's What Our Customers Think of Us:
Laser Cutting Inc. is an outstanding company to do business with! They have provided many creative banners for our basketball tournament and George is professional, reliable and a man of great integrity! I highly recommend LCI for all your laser cutting needs!! — Michelle Epping
This is the company you will be happy with from small jobs to big jobs you always get fast and friendly service. The prices are very reasonable and competitive. Look no further than this company! — Marlon M.
I have worked with George many times and they have always done timely, quality work and a great price. Wouldn't go anywhere else! — David Osterhaus