CNC Laser Cutting Service (For Plastics & Wood)
Highly repeatable production, a wide range of material cutting capabilities, and a quick turnaround time are what it takes to become a premier CNC laser cutting service. Our Milwaukee-based facility has perfected these requirements and more. We have only the most advanced laser cutting machinery to complete your project accurately and efficiently. Whether your project is a single item or an entire assembly line of parts, you'll see the consistent quality we produce every time.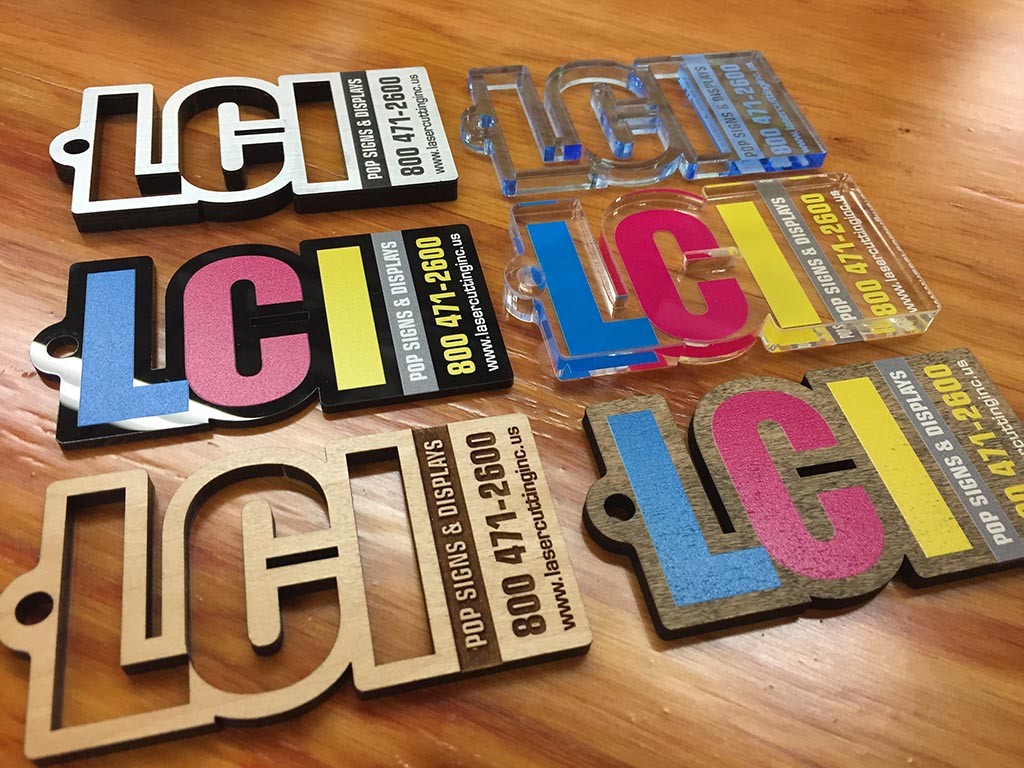 Materials Our Laser Cutting Service Works With
Our Laser Cutting Service has extensive experience working with many types of materials, including the following:
Acrylic (Plexiglass) – This material is the most common one that we cut and our lasers always leave a beautiful and polished edge.
PETG – This substrate provides more impact resistance when compared to acrylic (plexiglass). However, that doesn't stop us from achieving a clean and glossy laser cut edge.
Expanded PVC – When working with expanded PVC materials, we have found that many start off completely white or black. For white expanded PVC, the edges turn brown after we preform our custom laser cutting service, while our black Expanded PVC edges become slightly off black.
Polycarbonate – This material is almost unbreakable. We have the ability to cut polycarbonate up to 1/8" thick with exceptional results. This material has the most resistance to breakage which laser cutting service offers.
Haircell ABS – When you want high-impact resistance, a material with great strength, stiffness, and durability, Haircell ABS is the right material for your project. Our team commonly works with thicknesses of 1/8'', 3/16'' and ¼''. Haircell ABS is also commonly used for electrical
applications. Some examples are enclosures or other OEM parts.
Card Stock & Paper – We cut intricate and delicate designs that might be necessary for Corporate cards, Greeting Cards & Wedding Invitations. We utilize flying optic lasers, which saves you money on smaller and larger production runs. Quantities of parts we produce can be in the 100's of thousands!
Our team even works with styrene, polyester film, fabrics, solid wood, plywood, wood veneer, MDF, and card stock and paper. Our CNC laser cutting service portfolio has an extensive library of repeat customers and successful results. Our tight tolerance allows us to meet the toughest standards, which are critical for the medical and military industries.
Urgent Projects & Company Information
For projects that require immediate attention, we have 10 precision laser cutting machines that are ready to get to work. The maximum table size that we can work on is 52" x 100". Our facilities are located in Milwaukee, Wisconsin, but our professional laser cutting service is used mostly nationwide by our customers.
Please contact us at your convenience. Our laser cutting experts are ready to provide our services. If laser cutting isn't exactly what you need at this moment, check out one of our other premier services. We also offer laser engraving, plastic fabrication, UV flatbed printing, and more.