LED Halo Channel Letters 100% Built at LCI
LED Halo Channel Letters 100% Built at LCI to Your Specs
At LCI we specialize in LED Halo Channel Letters.  This image is of the back side of an LED Channel Letter;  The letter housing is made of HDU Sign Foam which is painted to a custom Pantone color.  The front side of the Letter is Acrylic which is also painted on the 2nd surface with the same color match.  The white acrylic reflector layer helps to shoot light back towards the wall, creating the Halo effect.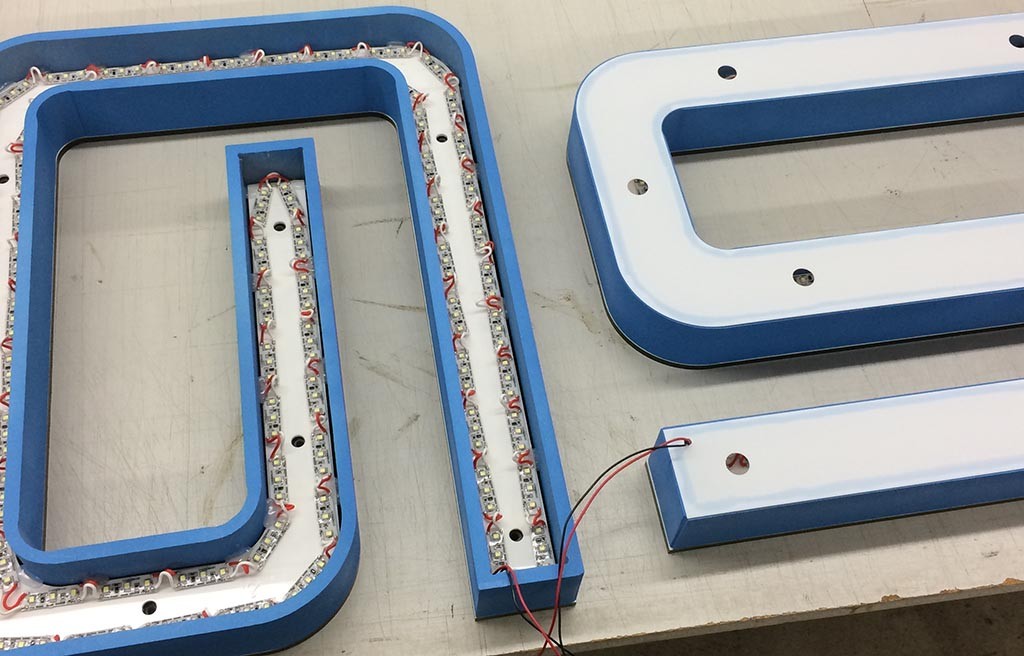 Then we supply you with a mounting template for fast and easy, do-it-yourself installation.  For these LED Halo Channel Letters, we manufactured 1″ standoffs for spacing between the letter and the wall.  All of the transformers and LED lights are low voltage and UL approved.  Custom Acrylic and base layer color is available.
Frequently Asked Questions:
1. Do I need to supply LCI with a cad file to produce LED Halo Channel Letters?
A: A cad file is helpful if you have one but it is not necessary. Our design team can work with you to turn your idea into a finished product.
2. What format files do you work with?
A: Adobe Illustrator, Corel Draw, Adobe Photoshop, AutoCAD, SolidWorks and most other common formats.
3. What information do I need to get a quote?
A: Size of part yo need cut, Type of Material, Thickness of Material and Color. If you don't know any of this info, we can guide you.
4. Does LCI send a proof before producing work?
A: We always e-mail a proof for your review before running any parts or products.
5. Can LCI produce a sample part before running large orders?
A: Yes! We can make a production sample before large production.
6: Do we need to wire the letters to the transformer??
A: No. LCI will supply a plug and play lighting system. We use a system of jacks and plugs for quick and easy install.
Need a Quote on a Project?
Either give us a call or e-mail us at the address listed below. We understand that our customers need quick turn around times and our team responds quickly to quote requests to help you with a solution. From pencil sketch to cad file, we can work with just about any file format to make your request into a finished success. All trademarks shown are the property of their respective owners.
Laser Cutting, Inc.
1549 South 38th Street
Milwaukee, WI 53215-1717
Toll Free: 1-800-471-2600
Tel: 1-414-383-2000
Fax: 1-414-383-7447
e-mail: info@lasercuttinginc.us
web url: www.lasercuttinginc.us
Laser Cutting, Inc. serves Chicago with 1 day UPS ground shipping!
Here's What Our Customers Think of Us:
Highly professional and meticulous work. Excellent pricing and fulfillment services. — Aaron Cole
Great company! Professional, on time and perfect product. Will do more business with them! — Kevin Ganiere
Excellent consultation and high quality workmanship. I love this company! — Jason Cicero