Laser Engraved Stainless Steel Tags
Laser Engrave Metal Stainless Steel Aluminum Brass
At LCI we Laser Engrave Metal Stainless Steel Aluminum Brass and other ferrous substrates. This is an example of Laser Engraved Stainless Steel Tags which we laser cut to just about any contour. Then we laser engrave them turning the surface black. Whether your application is industrial parts which require sequential serial numbers or artistic layouts such as logos and other graphics, LCI is equipped to get the job done efficiently and cost effective.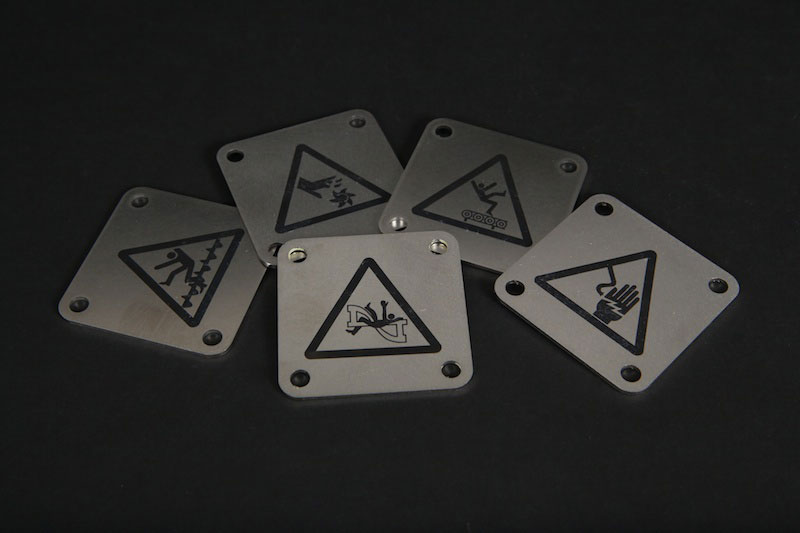 Frequently Asked Questions:
1. Do I need to supply LCI with a cad file for the project I need produced?
A: A cad file is helpful if you have one but it is not necessary.  Our design team can work with you to turn your idea into a finished product.
2.  What format files do you work with?
A: Adobe Illustrator, Corel Draw, Adobe Photoshop, AutoCAD, SolidWorks and most other common formats.
3. What information do I need for Laser Engrave Metal Stainless Steel Aluminum Brass?
A: Type of material you need cut and or engraved, thickness and qty of parts.  If you don't know any of this info, we can guide you.
4. Does LCI send a proof before producing work?
A: We always e-mail a proof for your review before running any parts or products.
5. Can LCI produce a sample part before running large orders?
A: Yes!  We can make a production sample before large production.
6:  Will the image scratch off of Laser Engraved Stainless Steel Tags?
A: No.  Our lasers etch into the surface of the metal leaving a sharp and hi-res permanent impression.
Need a Quote on a Project?
Either give us a call or e-mail us at the address listed below. We understand that our customers need quick turn around times and our team responds quickly to quote requests to help you with a solution. From pencil sketch to cad file, we can work with just about any file format to make your request into a finished success. All trademarks shown are the property of their respective owners.
Laser Cutting, Inc.
1549 South 38th Street
Milwaukee, WI 53215-1717
Toll Free: 1-800-471-2600
Tel: 1-414-383-2000
Fax: 1-414-383-7447
e-mail: info@lasercuttinginc.us
web url: www.lasercuttinginc.us
Laser Cutting, Inc. serves Chicago with 1 day UPS ground shipping!
Here's What Our Customers Think of Us:
LCI can do any design and has invested in the latest and greatest technology. Very clean and well organized shop run by good people who are willing and ready to listen to what I need. Their work is top flight. For any custom work big or small, George and his crew can do it!  — Kevin Nash
Great experience. Staff was timely and helpful and the finish product was awesome. They take time to understand exactly what you're looking for. I would highly recommend.  — Judd Platz
I'm 63 years old and have lived in Milwaukee all of my adult life. Generally speaking, Milwaukee is a city where NO is the favorite word in just about any context that pertains to responding to creatives, product developers, inventors, startups and other such endeavors. In our region it is rare to find people in business such as George Mladenov Sr. his son George and Sales Manager John all of whom have shown me kindness and a genuine interest in me as a person when I walk in the door with a creative project; these guys prefer YES we can and show a genuine admiration for creatives. These fellas will sit down with you and go out of their way to help you be successful in your endeavors having a well equipped shop of various types of machines and equipment and the skilled craftsmen that know how to use them to produce stunning results creatives are seeking. I highly recommend contacting and working with Laser Cutting Inc. for your projects.  — Clinton Gallagher