Laser Cut Acrylic POP Display for Massager
Laser Cut Acrylic POP Display
This is an example of a Laser Cut Acrylic POP Display.  This massager caddy is laser cut from 1/4″ Clear Acrylic Sheet and then Heat Bent to specs.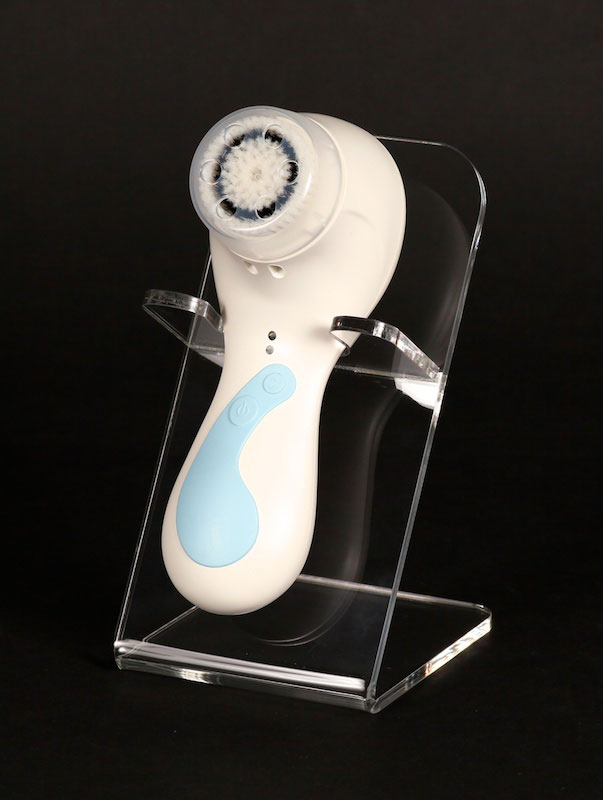 Frequently Asked Questions:
1. Do I need to supply LCI with a cad file for the project I need produced?
A: A cad file is helpful if you have one but it is not necessary. Our design team can work with you to turn your idea into a finished product.
2. What format files do you work with?
A: Adobe Illustrator, Corel Draw, Adobe Photoshop, AutoCAD, SolidWorks and most other common formats.
3. What information do I need to get a quote?
A: Size of part you need cut, Type of Material, Thickness of Material and Color. If you don't know any of this info, we can guide you.
4. Does LCI send a proof before producing a complete Laser Cut Acrylic POP Display?
A: We always e-mail a proof for your review before running any parts or products.
5. Can LCI produce a sample part before running large orders?
A: Yes! We can make a production sample before large production.
6: Will the ink scratch off of direct print laser cut acrylic products?
A: No. Our proprietary printing and cutting process leaves ink in tact even after laser cutting through it. Our ink adheres strong and is tough to scratch off.
7: Can the parts be glued together?
A: Yes. We also use acrylic cement to bond acrylic together
8: How thick of acrylic sheet can you cut?
A: We cut acrylic up to 1″ Thick!.
Need a Quote on a Project?
Either give us a call or e-mail us at the address listed below. We understand that our customers need quick turn around times and our team responds quickly to quote requests to help you with a solution. From pencil sketch to cad file, we can work with just about any file format to make your request into a finished success. All trademarks shown are the property of their respective owners.
Laser Cutting, Inc.
1549 South 38th Street
Milwaukee, WI 53215-1717
Toll Free: 1-800-471-2600
Tel: 1-414-383-2000
Fax: 1-414-383-7447
e-mail: info@lasercuttinginc.us
web url: www.lasercuttinginc.us
Laser Cutting, Inc. serves Chicago with 1 day UPS ground shipping!
Here's What Our Customers Think of Us:
LCI has a great working environment everything is done well and precise at the company all in all a great business — Raul Flores
Very knowledgeable, friendly staff, quick turnaround times and superb quality! — Amy Niedzwiecki
Great People
Fair Price
Awesome Service
Quick turn around for the quote and completed when they said it would be done — Ben Noeffke