Anodized Aluminum Laser Engraving
Anodized Aluminum Laser Engraving
Here's an example of Anodized Aluminum Laser Engraving.  Our lasers eat through the anodized coating to expose the raw silver aluminum surface underneath.  This results in a sharp image.  This process is perfect for control panels, flashlights & pocket knives.  Also, just about any anodized aluminum surface can be engraved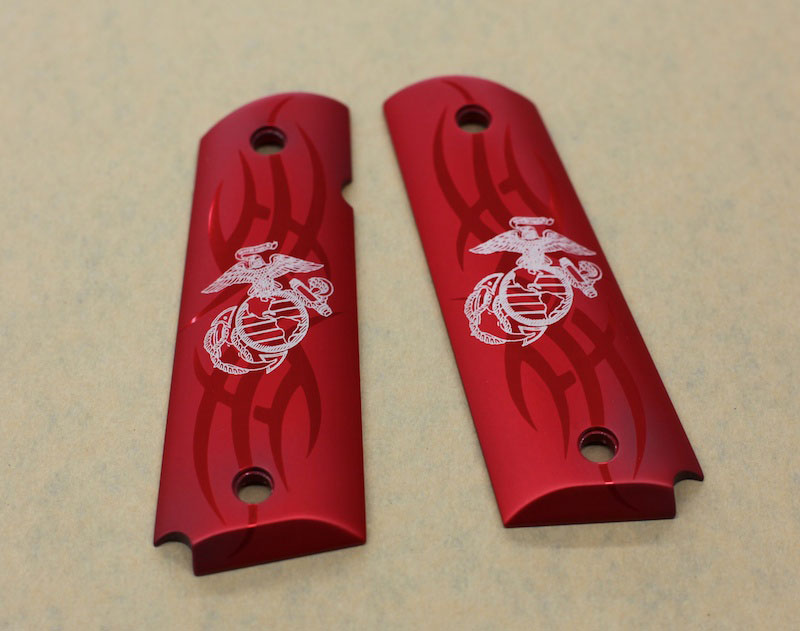 Frequently Asked Questions:
1. Do I need to supply LCI with a cad file for Anodized Aluminum Laser Engraving?
A: A cad file is helpful if you have one but it is not necessary. Our design team can work with you to turn your idea into a finished product.
2. What format files do you work with?
A: Adobe Illustrator, Corel Draw, Adobe Photoshop, AutoCAD, SolidWorks and most other common formats.
3. What information do I need to get a quote on Anodized Aluminum Laser Engraving?
A: Size of part you need cut, Type of Material, Thickness of Material and Color. If you don't know any of this info, we can guide you.
4. Does LCI send a proof before producing work?
A: We always e-mail a proof for your review before running any parts or products.
5. Can LCI produce a sample part before running large orders?
A: Yes. We can make a production sample before large production.
6: Can LCI fill the engraving with color?
A: No. Anodized Aluminum Laser Engraving is very shallow in depth. It is actually close to 2 dimensional. There isn't any room for paint to fill.
7: Does the image look crisp?
A: Yes. As long as the artwork has good detail, the engraving will also look sharp.
Need a Quote on a Project?
Either give us a call or e-mail us at the address listed below. We understand that our customers need quick turn around times and our team responds quickly to quote requests to help you with a solution. From pencil sketch to cad file, we can work with just about any file format to make your request into a finished success. All trademarks shown are the property of their respective owners.
Laser Cutting, Inc.
1549 South 38th Street
Milwaukee, WI 53215-1717
Toll Free: 1-800-471-2600
Tel: 1-414-383-2000
Fax: 1-414-383-7447
e-mail: info@lasercuttinginc.us
web url: www.lasercuttinginc.us
Laser Cutting, Inc. serves Chicago with 1 day UPS ground shipping!
Here's What Our Customers Think of Us:
John at LCI was very responsive to my calls. They gave me a reasonable quote and they were able to meet my deadline for laser cut acrylic parts with UV print. I would highly recommend their services. Thanks for going the extra mile guys! — Helio Prebenda
LCI's craftsmanship is second to none. — De Von D
They are our go-to business for anything laser cut. They have excellent customer service and produce quality products. — Daniel Laux